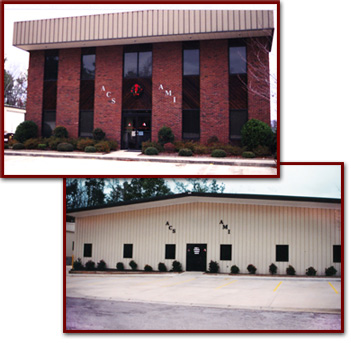 Advance Cutting Systems bases our service and parts department out of our home office in Pelham, Alabama.
Over the years, ACS has expanded from rented office space into the company owned current location that consists of an office and support building, and a 7,000 sq. ft. Demo and Training Center.
We understand just how hard it is to decide what type of cutting technology is best suited to manufacture your parts. For this reason, we maintain a full inventory of cutting machines, under power, in our demo center. Our systems include Conventional Plasma, Precision Plasma, Abrasive Waterjet, Non-Abrasive Waterjet, Oxy-Fuel and Fiber Laser. Send us your drawings and we can cut your part on multiple processes to see which best fits your requirements. Better yet, we invite you to visit and see your parts cut in person. All ACS Plasma and Waterjets are proudly built in the United States of America!
The machines in the Demo center are swapped in and out during the year, normally in Nov and Dec. It sometimes takes us until March to get machines set back up so please check with us before you just drop in to make sure we have the machine you are looking at set up.
ACS maintains a staff of factory trained service technicians to install and train our customers on the cutting machines, coil lines and retrofits they purchase from us. We also staff a service support line from the Pelham office.
Many commonly used parts are stocked in Pelham along with an inventory of several CNC Controls that are available for rent in the event a customers control must be sent off for repair.
Onsite service calls and installations can be arranged with our Operation Manager, Kevin Doss at 1-800-752-1056 extension 5116.
112 Hilltop Business Center Dr, Pelham, AL 35124