Cutter II 510
Description
The Cutter II cutting system was introduced to the market in 2006 as the latest model in the Advance Cutting Systems product line. The Cutter II is a state of the art Computer Numerically Controlled (CNC) Cutting System designed to use a plasma-cutting torch to cut out geometrical shapes and parametrically programmed HVAC (Duct Work) fittings. The fittings are programmed in the office using Profile Master PM-2000 Duct-CAM (Computer Aided Manufacturing) software; the parts are then nested on a sheet of metal to minimize material waste and are then cut out at high speed with the plasma torch.
Cutting Table Features:
5′ x 10′ Cutting Area, Single Piece, Unitized Design
Direct Drive Rack & Pinion (NO BELTS)
Extra Wide Drive Side Saddle adding stability to long axis cutting
Planetary Gear Boxes
High Speed Traverse
ACS Color Graphic Controller with Motors and Drives
Hypertherm Plasma
Floating Head
AutoDesk Fabrication CAMduct Software with all fittings and nesting
Office Computer with Printer allowing for programming of Jobs in the office
Multiple copies of Remote Date Entry for field programming
Onsite Installation and Training including all travel and labor expenses
The Cutter II is MADE IN THE USA!
Free Phone, Email & Remote Support to the original owner for the lifetime of the machine
Torch Height Options: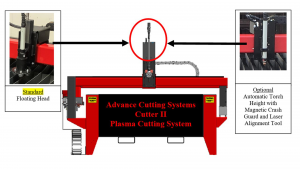 Wide machine saddle for rigidity and precision:
ACS – Color Graphic Control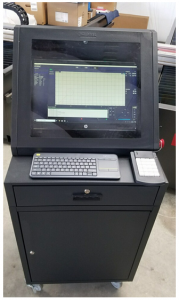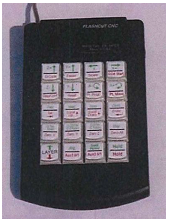 20 inch Color CRT
4 Axis, 8 amp micro-stepping drive
Motors
Windows 10
Plasma Support Interface
Jump to Line, Dry Run
Momentary Run
Run File Forward and Backwards
Kerf Crossing Detection
DXF/DWG Import
Automatic Kerf Compensation
Overburn Support
Assign Different Operations to Each Part
Cut Sequencing
Operation Sequencing
Custom views of Kerf Width, Cut Direction
Toolpath, Rapids and Part Geometry
Customizable Post Processor
The Control Pendant allows you to move the X and Y axes. The Pendant has a 10 ft cable allowing the operator to manually position the cutting head when not in front of the Controller.
What's inside the Cabinet of the ACS Color Graphic CNC Control?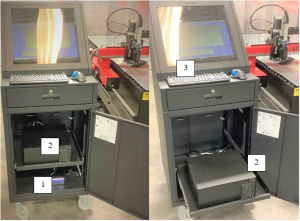 Standard Office Computer System: (connected to shop controller)
Office Computer, Windows 10
Large Hard Drive and RAM
Ethernet
Keyboard, Color Monitor, Printer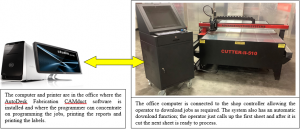 AutoDesk Fabrication CAMduct Software is installed in the office computer:
An AutoDesk Company
Rectangular Fitting Libraries
Circular Fitting Libraries
Oval Fitting Libraries
Bought Out Fitting Libraries
Standard Shape Library
AutoNest & Manual Nest
Opus-5 CAD 2-D Drawing Package
Oversize Part Breakdown Program
Management Reports
Add Hole in fittings
Perpetual License – no yearly subscription required
Internet Help
First-Year Software Updates Included.
FREE phone, fax & internet support for the lifetime of the machine, to the original owner
Optional Water Table Insert with Bubbler
Recommended for cutting material 1/2" and above. Not recommended for HVAC Contractors doing light gauge sheet metal
Optional Combo Plasma/Rotary Insulation Cutter